TOWNSEND CLUBS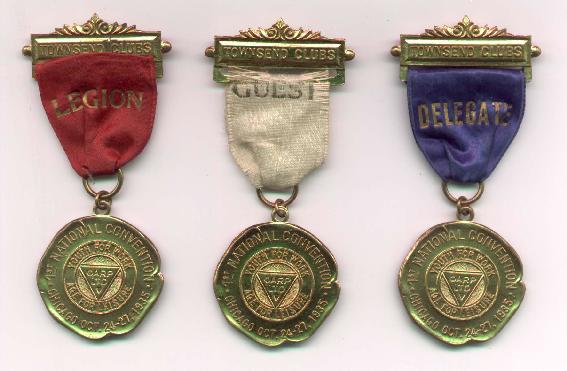 In 1933, Dr. Francis E. Townsend, 67, wrote a letter to a Long Beach California newspaper advocating the establishment of a Government sponsored old age pension plan. The response was immediate and overwhelmingly favorable; 1933 was perhaps the worst year of the Depression and times were especially bad for the elderly. This led to the establishment of "Townsend Clubs" all across the country and eventually to the Social Security Act of 1937. These medals are from their first national convention in 1935.
In 1933 Townsend witnessed three old women rummaging through the garbage cans in his alley for food. He was horrified by what he saw and decided to get involved in politics. Later that year he proposed a scheme whereby the Federal government would provide every person over 60 with a monthly pension of $150 (later increased to $200). Townsend argued that the pensioners would immediately spend the money and would therefore create new jobs and bring an end to the Great Depression.
Townsend suggested that his Old Age Revolving Pension Plan could be financed by a Federal tax on all sales (wholesale and retail).The plan obtained a great deal of public support and by 1935 his Townsend Club had over 5 million members.
In 1935 Townsend handed in to President Franklin D. Roosevelt a petition supporting the Old Age Revolving Pension Plan that had been signed by over 20 million people. In response to the petition, Congress passed the Social Security Act.
Townsend claimed that Roosevelt's social security legislation was completely inadequate and in 1936 joined with Father Charles Coughlin, Gerald L. K. Smith and followers of the late Huey Long, to form the National Union of Social Justice. William Lepke was selected as the party's candidate in the 1936 presidential election but won only 882,479 votes compared to Franklin D. Roosevelt (27,751,597) and Alfred Landon (16,679,583).
In 1936 Townsend was prosecuted by the U.S. Department of Justice for contempt of Congress. However, President Franklin D. Roosevelt commuted Townsend's 30 day prison sentence. Francis Townsend died in Los Angles on 1st September, 1960.
In 1943, Dr. Francis E. Townsend published his autobiography--NEW HORIZONS, AN AUTOBIOGRAPHY. By that time the Townsend movement was a decade old and Social Security had been paying benefits since 1937 (monthly benefits since 1940). Even so, only some of the steam had gone out of the movement by 1943. In those early years of Social Security benefits were still small and beneficiaries were few. Old-Age Assistance was more important, both in terms of the dollar value of the benefits and the size of the eligible population. It was not until the 1950 Social Security Amendments that the value and size of the Social Security program finally outpaced welfare benefits.